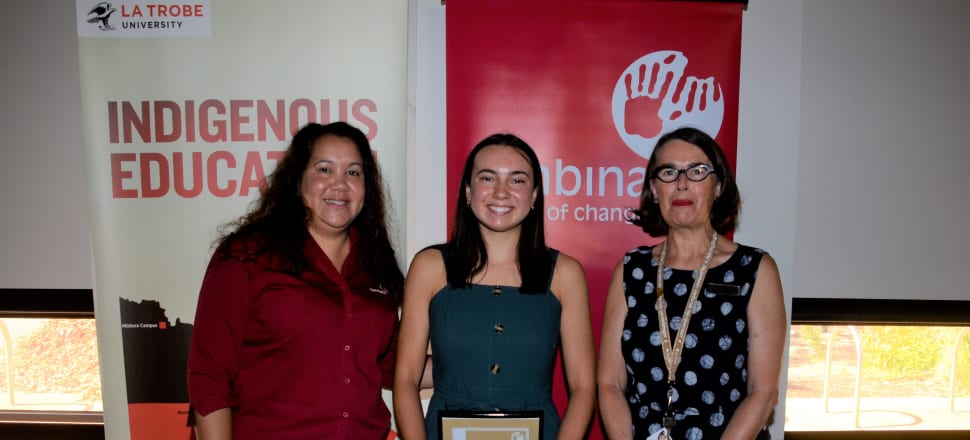 5370537724001
Wanganui Park Secondary College indigenous graduate Anerley West was recognised by Ganbina for her outstanding VCE results at a morning tea on Tuesday.
The annual Ganbina Academic Excellence Award, sponsored by La Trobe University, celebrates the highest achieving Ganbina participant based on their ATAR score and successful completion of VCE.
Miss West said while she was not expecting to get the award, she was "really excited" to receive recognition for her year of hard work.
"I'm so thankful to Ganbina for all their support through secondary school, and their ongoing support as I start university," she said.
"I'm also thankful for La Trobe University for supporting Ganbina, as it's such an incredible support for the indigenous youth in this area."
Miss West will soon move to Melbourne to study a Bachelor of High Performance Sport at Australian Catholic University.
She was also given a $500 cash prize to go towards her future studies as part of the award.
La Trobe University indigenous academic enrichment officer Cora Best said Miss West's acceptance into the Australian Catholic University was exciting, and the award reflected the university's ongoing support for indigenous students in the community.
"The award is how we say [students] are doing really well, and shows we're really excited for them," Ms Best said.
"We're not just here to support La Trobe — we're here to support all."
Gambina general manager Larissa Falla said Miss West, who also completed the three-year Ganbina Youth Leadership Program, was a "very worthy" recipient who was a positive role model for the community.
"Ganbina aims to support them to succeed and ultimately become leaders and agents of change within their community," Ms Falla said.
The award was founded in 2015 through a relationship between Ganbina and La Trobe University indigenous academic officer Michael Chisholm, to recognise the achievements of Aboriginal and Torres Strait Islander students in the region.